2018-08-26
President of Azerbaijan and German Federal Chancellor held expanded meeting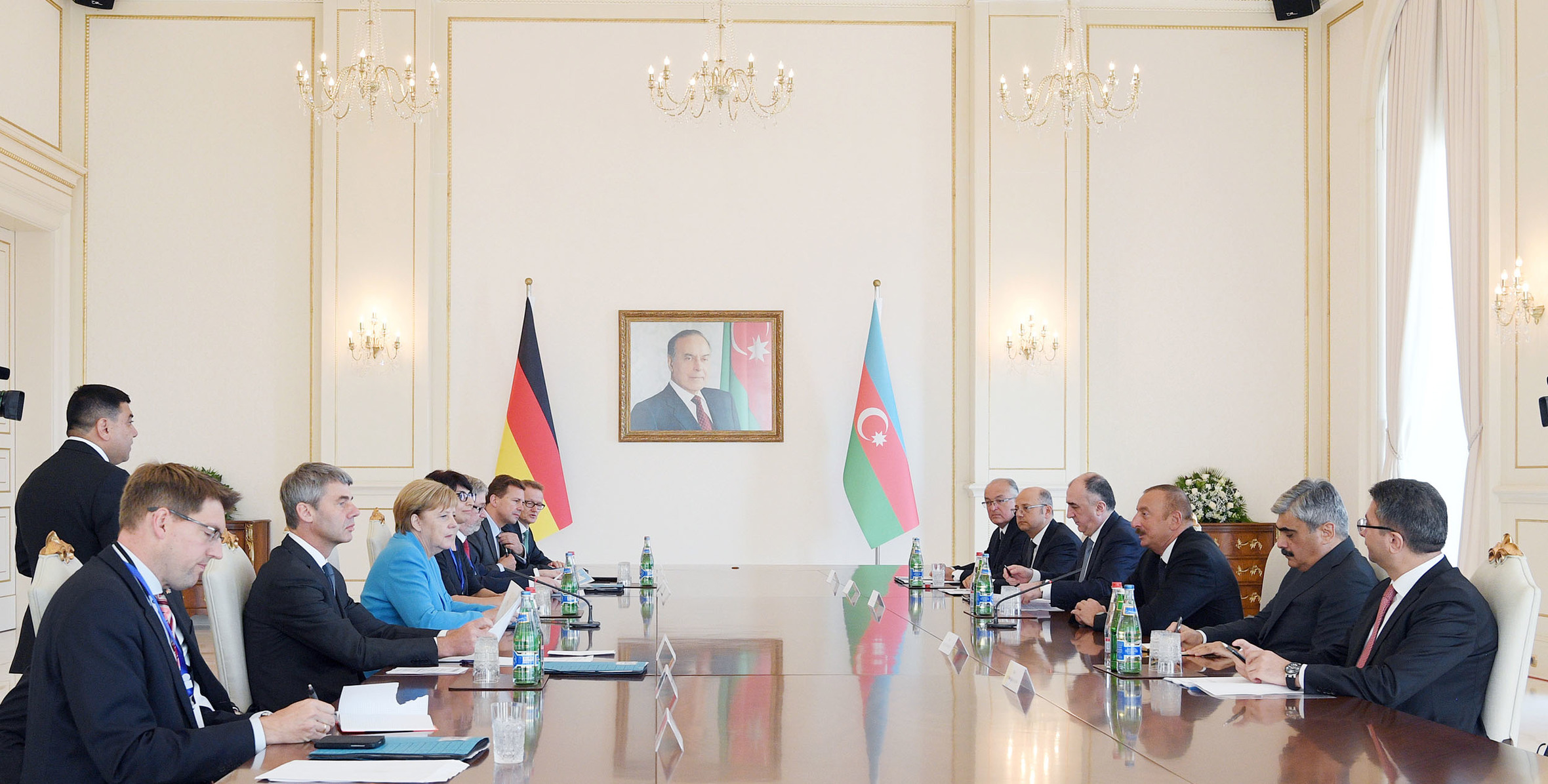 President of the Republic of Azerbaijan Ilham Aliyev and Federal Chancellor of the Federal Republic of Germany Angela Merkel held a meeting in an expanded format with the participation of delegations.
The President of Azerbaijan and the German Federal Chancellor made speeches at the meeting.
President of Azerbaijan Ilham Aliyev said:
Dear Mrs Chancellor,
Distinguished guests,
I sincerely greet you all in Azerbaijan. Welcome to our country.
We attach very big importance to your visit. I am sure that the visit will be very successful and German-Azerbaijani relations will continue to develop successfully.
We have met several times with you, we maintain active political dialogue, and I am very glad that you are in Azerbaijan today. This is a historic visit.
Our bilateral agenda is very broad and covers such issues as political and economic relations, trade relations, regional issues – all these issues will be discussed today. I am confident that your visit will give a new impetus to our relations.
Welcome once again.
X X X
German Chancellor Angela Merkel said:
Dear Mr President,
Distinguished Azerbaijani delegates,
I am very glad to be in Azerbaijan. We have already met several times. But it's for the first time that I am visiting this country.
Our relations are multifaceted. We have repeatedly met within international organizations, on the sidelines of international meetings, and I think that this visit will provide a fresh impetus to our relations.
We can also expand our relations in the field of culture. Two hundred years pass since the establishment of the first German colony in Azerbaijan. Some people are not even aware of this fact.
We can enhance our economic relations. Azerbaijan is Germany's largest trade partner in this region.
We will probably touch upon some critical points. This is human rights and humanitarian situation.
We will also talk about a problem which severely impedes this region. This is the Nagorno-Karabakh conflict, and Germany wants to support its solution.
©President.az