2019-12-10
President of Azerbaijan, King of Jordan held one-on-one meeting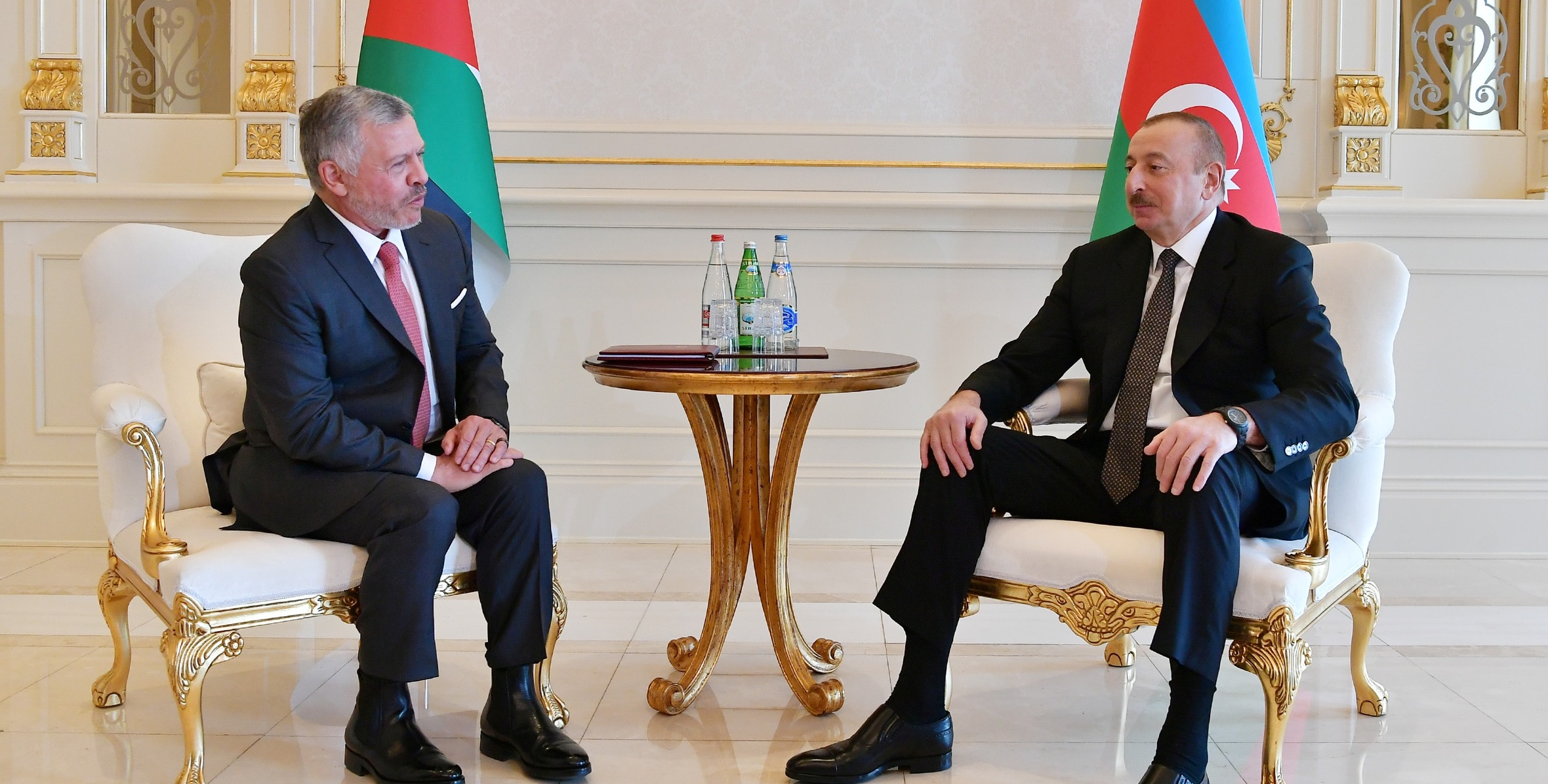 Following the official welcome ceremony, President of the Republic of Azerbaijan Ilham Aliyev and King of the Hashemite Kingdom of Jordan His Majesty Abdullah II ibn Al Hussein have held a one-on-one meeting.
Welcoming the King of Jordan President Ilham Aliyev said:
Your Majesty,
Welcome to Azerbaijan. Dear brother, thank you for accepting my invitation, and visiting us. It is a good opportunity to once again, to address important issues on our bilateral agenda. We have met recently in Sochi, and had an opportunity to communicate and once again. I invited you to visit us and I am very glad that in a short period of time despite that you are very busy, you are visiting us. It is a really big honor to host you in Azerbaijan. You are our dear guest here and I am sure that during this visit we will jointly contribute to further development of our brotherly relations. These relations cover various areas. We are very happy to coordinate our efforts on international arena, support each other on the important issues in international organizations. Political contacts are excellent. I looked today at economic data. I think we need to work harder and we will definitely do it and broadly discuss this issue today. I am glad that this year we had a growth of tourists from Jordan to Azerbaijan, more than 20 percent. So, I think that, we can also discuss opportunity of establishing direct air connection. So, the people can visit each other more often. Once again, welcome. I wish you a pleasant stay in Baku.
King of Jordan Abdullah II said:
My dear brother, thank you very much. As you said, it was a pleasure to see you in Sochi, not long ago. I had many wonderful memories of my visits here over the past two decades. I am delighted to be here with my friend. I know that on international arena you have played such an important role. Especially congratulations to the Non-Aligned Summit which you have had very recently.
As you said my dear brother, our relationships are very strong politically, intelligence, military. I think we could do some improvements in the field of economy. I am sure that we will have some very simple meetings today. But I wanted to come here just to thank you for the regional and the world role that you play and I am sure that there is a lot that we can talk about Inshallah to improve the challenges in our region. And I always look up to your leadership, your kindness and your support for our country and thank you very much for all this.
© President.az